There are several things that you need to consider before you start building your PC. These include the best processor, RAM, graphics card, cooling system, motherboard and case. Apart from the hardware components, you should also consider a few software factors when choosing the best components for your PC.
To build a gaming computer is not as hard as people think. A basic knowledge of computers and even some computer components would be needed, but if you have a friend who can help you it will be easier. Here are the parts you'll need to build a great gaming computer:
How to build a computer
A computer is a tool that allows you to do something better, faster or cheaper than you could otherwise. Building your own PC will allow you to save money, learn about computers and have fun doing it. It's also the best way to ensure that your computer is built exactly how you want it. If you're looking for a new gaming PC, but don't want to spend thousands of dollars on a high-end gaming rig, building one yourself is an excellent option.
Building a PC can seem daunting at first, but there are plenty of resources out there to help you along the way. This article will go over what parts are needed for building a gaming PC, how to start building a gaming pc and some tips for building your own custom rig without breaking the bank.
To build a computer, you need to start by learning what parts are needed to build a gaming PC. After that, you will learn how to start building a gaming pc.
parts needed to build a gaming pc
The first thing you need to do is get familiar with the parts needed to build a gaming PC. You'll need a motherboard and processor, RAM, GPU, power supply unit (PSU), storage devices like hard drives and solid state drives (SSDs), and a case.
There are many different types of motherboards on the market but for this guide we will be using an ATX motherboard which is the most common type of motherboard used in PCs. The other types include micro-ATX (mATX) and mini-ITX (MIXT).
After you have chosen your motherboard it is time to choose your processor (CPU). There are two main types of CPU available in today's market — Intel and AMD — each with their own pros and cons when it comes down to what kind of performance they offer for their price point. Intel chips tend to be more expensive but offer better performance when compared to AMD chips at similar price points. If you're looking for an AMD chip then look at Ryzen processors which come in various core counts
Here's a quick rundown of the parts needed to build a gaming PC:
CPU: Intel Core i5-6600K 3.5GHz Quad-Core Processor ($209.99)
Motherboard: Asus Z170 PRO GAMING ATX LGA1151 Motherboard ($179.99)
Memory: Corsair Vengeance LPX 16GB (2 x 8GB) DDR4-2400 Memory ($89.99)
GPU: EVGA GeForce GTX 1080 FTW GAMING ACX 3.0 8GB Video Card ($699.99)
SSD: Samsung 850 EVO 250GB 2.5″ Solid State Drive ($69.99)
HDD: Western Digital Black WD1003FZEX 1TB 7200 RPM 64MB Cache SATA 6.0Gb/s 3.5″ Internal Hard Drive ($116.98)
Case: Corsair Carbide Series SPEC-03 Gaming Case – White/Red with Side Window and Front Panel Ports ($79.99)
This article will help you build your own gaming PC.
We'll start with the basics, like what parts are needed to build a computer and how to assemble them. Then we'll look at some of the best motherboards and graphics cards on the market right now. Finally, we'll take a deep dive into the storage options available for building a gaming PC.
Building your own computer isn't difficult, but it does require some research and patience. In this guide we'll walk through everything from deciding on your budget and choosing components to installing software and setting up your new system once it's complete.
how to start building a gaming pc
To build a computer, you will need to have a basic understanding of how things work. This guide will help you get started with building your own gaming PC.
First, let's take a look at the parts needed for this build: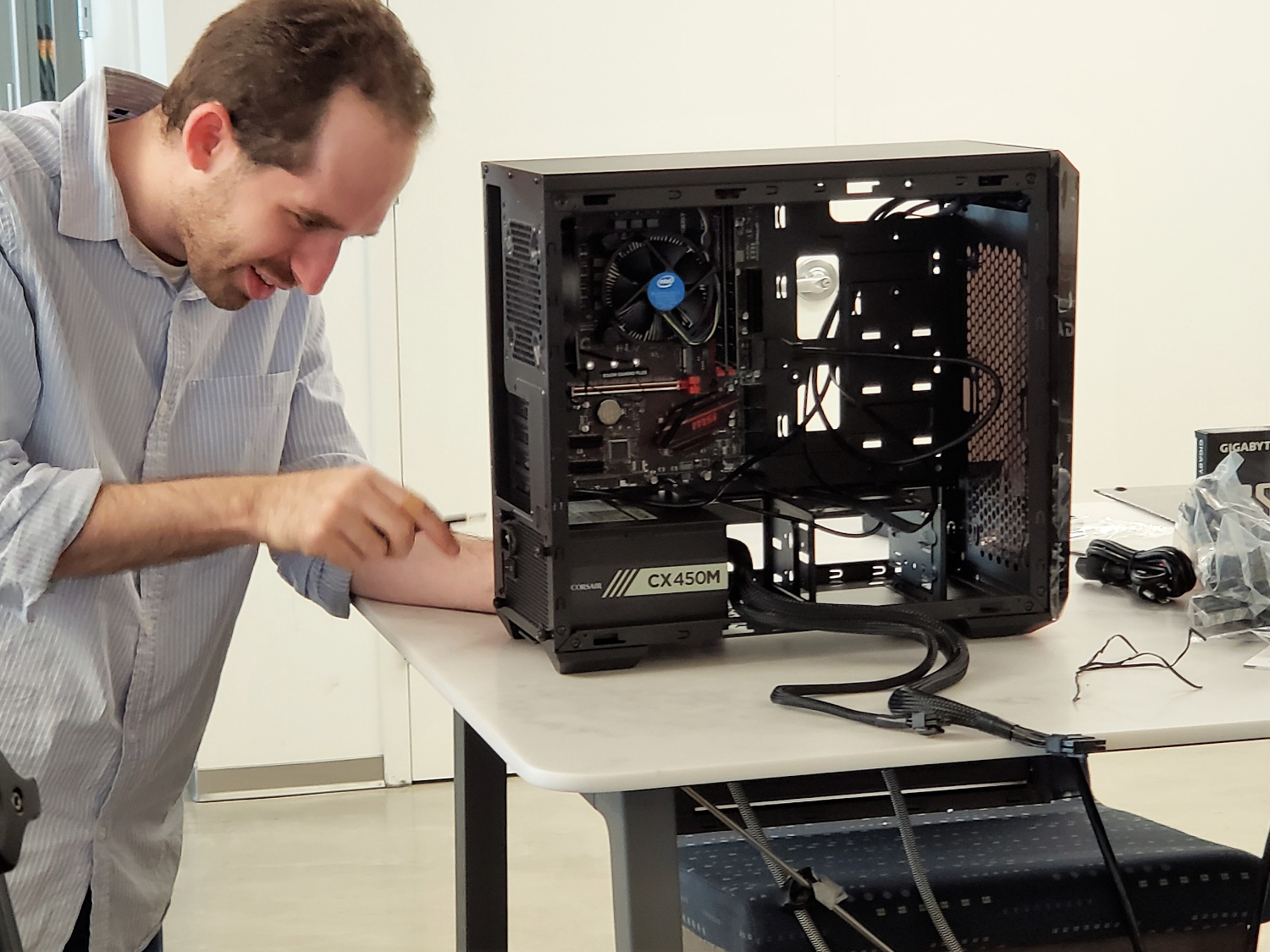 Case – This is where all of the other parts will go. The case should be well ventilated and easy to work inside. I recommend an ATX mid tower case with plenty of room for expansion and airflow.
Power Supply (PSU) – The power supply converts AC from your wall outlet into DC that runs through cables to the rest of the components in your computer. It also provides the power for any fans that come with your case or cooler(s). Make sure you get one that can handle all of the hardware being used in this build!
Motherboard – The motherboard is what connects everything together and allows them to communicate with each other. It also provides ports for attaching peripherals like USB devices and sound cards (if applicable). For this build, we'll be using an ASUS Prime X470 Pro ATX AM4 Motherboard​ which has plenty of space for expansion and cooling options, along with integrated WiFi capabilities if desired!
I'm planning to build myself a gaming pc and I'm wondering if you guys could give me some advice on what parts I need, how much they cost, where to buy them and how to start building the whole thing.
I already have a keyboard, mouse and monitor.
I'm not looking for anything too expensive or complex; just something that can play games at 1080p resolution at a decent frame rate.
Thanks!
There are many ways to build a gaming PC. You can either build it yourself or buy one pre-built and ready to play.
You can also buy a console, but let's be honest, that's not the same thing.
Building a PC is really fun and rewarding, especially if you're into tinkering with your devices. It's also a great way to save money as well.
The idea behind this article is to give you all the information you need to build your own gaming PC from scratch. We'll cover every aspect of building a gaming computer from start to finish so even if you've never built one before, you'll feel confident enough to do so after reading this article!
Building a gaming PC is not a complicated process. If you're looking to build your own custom gaming rig, we've got all the information you need to get started.
From choosing the best hardware to putting it all together, we'll walk you through the entire process. Check out our quick tips below for building your first gaming PC before diving into our comprehensive guide for step-by-step instructions on how to put one together.
Choosing Your Parts
The first step in building a gaming PC is choosing the right parts for your build. You can find great deals on all of our recommended parts at Amazon or Newegg, but if there's a specific component you'd like to buy from another retailer, make sure to check out PCPartpicker.com first so that you know what price range they fall into and whether or not they're compatible with other parts in your build.
If you're about to build a gaming PC for the first time, you might be feeling a bit intimidated by the prospect of assembling all those parts yourself. Don't worry! It's actually much easier than it looks, and we're here to help.
We've put together an easy-to-follow guide that will walk you through every step of the process, from choosing components to installing Windows and getting everything running.
Before we start, it's important to note that if this is your first time building a computer, you should know that there are two different types of motherboards: ATX and Micro ATX (mATX). ATX boards are larger than mATX boards, so they have more PCI slots, headers and ports. If you want to upgrade your system later on, an ATX board will give you more options when upgrading components like RAM or graphics cards.
The best place to start is with a solid-state drive (SSD). A speedy SSD will make your system feel faster and make it easier to run multiple programs at once. If money is no object, go for an NVMe M.2 drive with a PCIe interface for maximum performance. If you want something more affordable, the Samsung 860 EVO 500GB or Crucial MX500 1TB are both excellent choices.
On the motherboard side of things, we recommend the Asus ROG Strix Z370-F Gaming. It has all the bells and whistles you need to build a high-performance gaming PC: support for up to 64GB of RAM, high-speed USB 3.1 Gen 2 ports and dual Gigabit Ethernet ports. Plus, its Aura Sync RGB lighting lets you pick between 16 million colors to match your build's color scheme.
The Intel Core i7-8700K is one of our favorite CPUs because it offers plenty of power while keeping temperatures low enough that you shouldn't need any kind of liquid cooling system to keep it running cool and quiet. And if you want even better performance from your CPU, consider upgrading from the standard cooler to something like Cooler Master's Hyper 212 Evo or Corsair's H100i Pro